Last Update - 09/05/23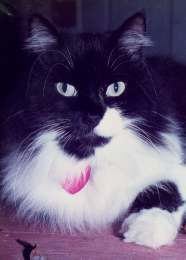 Prissy- Our 1st Love
16 Wonderful Years
We are very fortunate to be able to share our home and lives with our Feline friends. Unfortunately, they don't live as long as us, therefore, we must face their loss. All too often, illness, accidents, and sometimes even the unknown, will take them from us much too early. Others make it to the Fall season of their years and pass on peacefully into eternity. No matter how they leave us, there is always a certain amount of pain that we suffer.
In remembrance of our Feline friends that have passed on, and to preserve that small place in our hearts each holds, all the pictures you see on this page, hang in a special place in our home.
Buck - Prissy's Son
Age 14
Rat - Prissy's Daughter
Age 16.
Fluffy - Mr.Green's Sister
Killed by a Car
Mr. Green -
Urinary Track Infection
Bits - Fluffy's Daughter
Killed By A Dog
Sassy - Rat's Daughter
Feline Leukemia
Snake
7 yrs, Cause Unknown



Prissy - 17 Feb 98
Feline Leukemia
Lady - March 99
Age, 12+ years
Gray Boy - Last Seen
May 1999




Stinky - Last Seen
May 2001
Molly - July 2000
Age, 14+ years
Little Bit - Last Seen
May 2000




Sammy - April 2002
Bacterial Infection
Tootles - May 2002
Age, 16+ years
SnowBall - Feb 2003
Respiratory Infection




Squirt - April 2005
Age, 10 years
Knots - July 2007
Age, 13 years
Buddy - October 2007
Age, 13 years




Tabby - Dec. 2007
Age, 13 years
Miss Kitty - Jan. 2008
Age, 12 years
Shortie - Nov. 2008
Age, 20 years




Groucho - 2009
Age, 4 years
Dog Attack
WalMart Wally
July 2013
Age, 13 years
Foster
May, 2001 - Nov.27,2015
Age, 14 years




Red
Apr, 2001 - Dec.05, 2015
Age, 14 years
Crip
July 2001 - Apr.30, 2017
Age, 15 years
Tail
Apr, 2001 - Oct.17, 2017
Age, 16 years




Violet
Mar, 2000 - March 24, 2018
Age, 18 years
Tom Kitty
Feb., 2009 - May 08, 2018
Age, 13 years
Tiger
May, 2008 - June 13, 2018
Age, 12 years




Pansy
Apr, 2001 - July 01, 2018
Age, 17 years
Kitty Man
Feb, 2009 - Mar 13, 2019
Age, 10 years
Red Man
May, 2018 - June 13, 2019
Age, 4 years

Gray Girl
July, 2011 - Feb. 28, 2022
Age, 11 years
Butter Bean
Aug.,2001 - Jan. 05, 2023
Age, 22 years
Peanut
July, 2011 - Aug. 18, 2023
Age, 12 years