Elephants

Last Update - 12/29/22


---
| | |
| --- | --- |
| | All right , so it's not an Elephant. I looked everywhere but, I couldn't find an elephant. I'm sure though, if someone were to call and say they had a baby elephant, Dixie would jump in my truck and go get it. Peggy, the Pot Belly Pig is my proof that we take in almost any animal. Peggy's owners had to give her up and she came to live with us for a short spell. Peggy was very smart but, she was also very destructive in the house. We were fortunate to find her a home with several other Pot Belly Pigs. She now has friends with which to play and lots of room to run. Featured on this page along with Peggy is another of the strange creatures we've encountered. |
---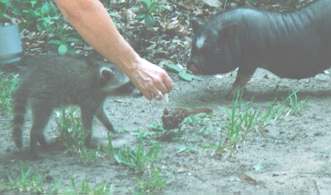 Yes, Dixie even raises birds. Here she's feeding a Brown Thrush she raised while Peggy and Nanny look on and wait for their treat.

---
| | |
| --- | --- |
| | Bunny - has a story though we're not sure what it is... She came to us early in January 1999 after being cornered by cats. After being rescued, she's now part of our ever growing Zoo.... |
| | Wild - is what she's supposed to be... I've never seen a blond wild bunny before so, we suspect she's a baby that was purchased as a pet and managed to escape. |
---
| | |
| --- | --- |
| | Gizzard the Lizard - as he's now being called.... Iguana on the hoof, or scale, or what ever. One things for sure, he's a loooong way from home. Unfortunately, he's doomed to live his life alone in an enclosure when he should be running free in a tropical forrest. |
| | Gizzard - is one of those Exotic Pets you see in the Pet Store that kids just have to own. That is until the new wears off... Then he's just a burden that has to be taken care of.... Please consider carefully the animals you buy as pets. |
---
Sparkle - Nothing real special about her... Just a simple little field mouse that had a close encounter with a cat. She's doing fine and living in one of our bedrooms. That is until I can get her to get in our live trap.
April, 2001
---
---
Comments, Suggestions
or Questions

You are visitor number


since June 2nd, 1997.